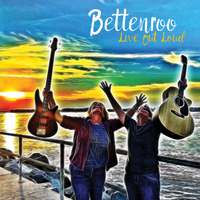 Bettenroo is a dynamic, versatile musical duo with undeniable vocal strength. Lori Jacobs & Anne Davey's flawlessly blended harmony is complemented with instrumental versatility of guitar, bass, and occasional percussion.
Based in Delaware & Vermont, Bettenroo performs in the US and beyond. They have been featured on Freeman Stage (a host to many national acts like Alison Kraus, Chicago, Melissa Etheridge, etc), Milton Theatre, WBOC's Delmarva Life, Florida's Gulf Coast & Keys, Ladybug Festival, New England as well as venues in Mexico, New Zealand, Australia, Ireland, Costa Rica and Belize. Audiences can't help but become an integral part of Anne and Lori's passionate musical delivery. Check out Bettenroo's CD 'Live Out Loud'.
Bettenroo performs mostly as a duo, however, they have tried and true professional musicians that add their talents for trio or 4 piece band flexibility. Regardless of the configuration, a Bettenroo show will energize your senses covering influential artists over the past five decades as well as performing their own captivating originals. Catch a show in your area!
MEXICO 2024 - Stay Tuned!
You are visitor number: 30265